Roll over image to zoom in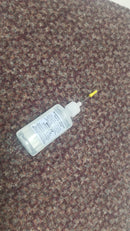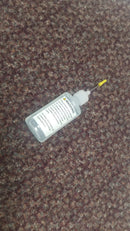 Description
Product Highlights:
Long-lasting 1oz. bottle
Lubricates scissors for smooth operating
Only a couple of drops needed
Prevents rust
Part of caring for grooming shears and scissors involves regularly applying oil. This scissor oil or shear oil does just that. It is very easy to use and is effective on a range of grooming shears.
You just need a few drops to get the job done. This bottle was specifically designed to only let out a few drops at a time, so your precious scissor oil doesn't go to waste. That means that even this seemingly small bottle will last for a surprisingly long time.
You should get in the habit of applying the oil every time you clean and dry the scissors. Remember that you ideally want to clean the scissors after every use anyway.
Open up the scissors so the blades create a 90-degree angle. Then, place one or two drops right into the joint area of the blades. Open and close your blades a few times. This will let the oil work into the blades of the scissors. Afterward, wipe the blades clean.
This will protect the system with the tension screw. It will also flush out any debris you may have missed while cleaning.
How to Clean the Scissors Before Applying Oil
You don't have to be intimidated by the idea of cleaning your grooming shears after each use. Just use a fine, soft brush to remove excess hair. Then, use a cleaning solution specifically designed to clean grooming shears. Don't forget to dry the shears thoroughly after, especially where the blades connect.