Roll over image to zoom in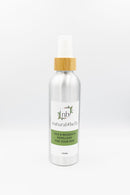 Description
Our Tick, Mosquito, fly and flea spay is an essential oil based repellent used to help defend our dogs.
Contains no Deer or pesticides. Our blend uses only organic essential oils. Our product is under 1% dilution rate to keep your dogs safe.
Made by a certified aromatherapist with over 16 years of experience.
Ingredients: Distilled H2O, Organic Glycerine, organic essential oils of: Catnip, Lemongrass, Geranium, Tumeric, Cedarwood, Rosemary, ethanol (preservative 0.5%)
Directions: Spray onto your hands or a cloth and apply around face avoiding the eyes. Lightly spray directly onto legs and belly. Only once every other day or after bathing or if dog gets wet, reapply.
Size: 150mls in an aluminum spray bottle.
Not recommended to use on puppies under 12 weeks of age.

Keep away from Children.