Roll over image to zoom in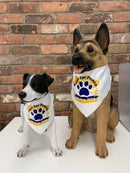 Description
Paws for Peace in Ukraine is a fundraising foundation created by Cheryl Wheatley of  Wheatley Wares & Wheatley Waterdogs(Portuguese Water Dogs Breeder).  We are raising funds to help save the overwhelming number of dogs, cats and other animals that were left behind and/or injured as a direct result of the atrocities bestowed upon humanity in Ukraine.  
We are raising funds through the sale of our Paws for Peace in Ukraine dog bandanas, all net proceeds will go to Dr. Cliff's Boots on the Ground campaign and will be directed to the dog Ukraine & Poland dog shelters and rescue efforts for food, medicine and equipment, the health and well being of these animals need our support.  Note: In the first 8 weeks, these groups have saved over 300 dogs and their work is just beginning.   
Each bandana includes tax.
•Tie on triangle dog bandanas

•V-neck shape - prevents the bandana from gathering around the neck

•Decorative finished stitch with matching thread for stylish look

•The overlock edge prevents fabric from fraying

•Material: Polyester  
https://studio.youtube.com/channel/UC8p1QwakdWqwBj0UfaG2RNw