Roll over image to zoom in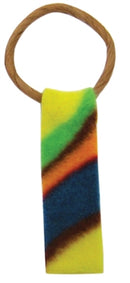 Description
Chasers by Cat Dancer - these colorful lightweight toys are such a great size for carrying and batting around. They don't have catnip, but you can easily marinate them in a bag of catnip or use a catnip spray, if your cat prefers!
Set of 3 includes: 1 - Ringtail, 1 - Whisker and 1 - Bowtie Chasers. 
Made in the USA in our Solar-powered factory in Wisconsin.
Vegan - Made with synthetic fleece and twisted cardboard